At SEES we write stories and create palettes to show you what inspires us.
This selection of images from various artists and designers illustrate some of our preferred qualities in space.
TADELAKT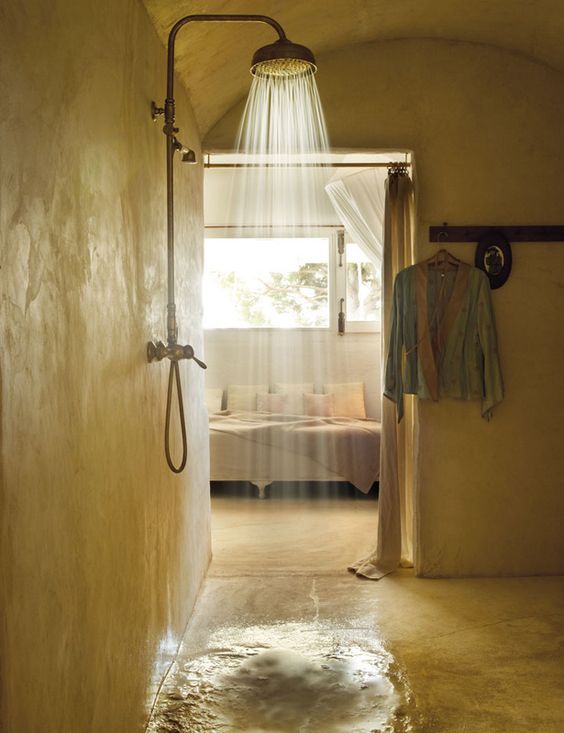 What is it?
A traditional Moroccan tadelakt (pronounced tadla:kt) plaster is used for water resistant surfaces as finishing and is gaining popularity in both Europe and Australia.
Historically, the Moroccan tadelakt was used only the city of Marrakesh. The nature offered there in essence an already prepared finishing material. It was burned, extinguished and then used directly as plaster. This type of polishing has a very high surface density, corresponding to modern high-quality concrete surfaces.1
Where to use?
Nowadays, tadelakt is often used to replace bathroom tiles on walls and floors. It is used also in sinks, baths and even as a coating of the tables, creating special and unique surfaces. The glow of tadelakt surface is charming and attractive. Particularly impressive is the feel of the surface to the touch.
Tadelakt is indeed something very original and imperceptible. The way in which it is created with a small stone leaves the surface slightly wavy, alive and naturally glossy. The surface colour doesn' t stay as constant as with other rendering materials. The look depends on the surface treatment - the place of stronger compression results in a darker, deeper hue. Also, various lighting conditions affect the tone of the surface differently each time, representing a unique tactile "handwriting" masterpiece.
This all makes SEES dream of all the possibilities in interior design:
Recipe of the luxurious finish?
Time, knowledge and skills.
The powder is mixed with cold water to a thick paste and tinted with permanent pigments. Plaster is applied in two layers, both approximately 2 mm thick. After solidification it is smoothed by the trowel, compacted and polished with a stone (basalt, agate, granite or other highly dense and porous stones) in circular motion. Tadelakt must harden as long as it can before polishing. The surface is covered with olive oil soap after 24 hours and polished again. This results in a lightweight silk matt sheen which is important for water resistance.1
Maintenance?
Tadelakt surfaces should be cleaned with a soft cloth or sponge. It is recommended to add olive oil soap into the wash water. As for regular contact with water (baths, sinks, shower stalls) it is recommended to maintain the surface every 3 months.2
Referenced literature:
1 http: //www.safran.ee/tadelakt/
2 http://viimistluse.ee/teenused/tadelakt/